2021 Fall Reunion
When: November 19 – 20, 2021
Where: Valley of Harrisburg, A.A.S.R. 2701 N 3rd St. Harrisburg, PA 17110
Honored Guest: Ill: Thomas C. Librandi, 33°
New Member Dues & Fees: $240.00 ($125.00 For Valley of Lancaster Members)
Degrees:
4°, 7°, 9°, 14°, 16°, 18°, 25°, 22°, 32° degrees – Live – Harrisburg Consistory
Are you a Master Mason interested in joining Scottish Rite Freemasonry and the Valley of Harrisburg?
Fall Reunion Honored Guest
Ill: Thomas C. Librandi, 33°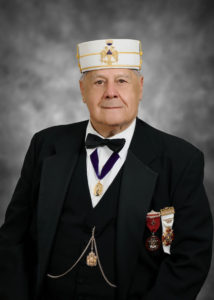 Tom is retired from Librandi Machine Shop, Inc. and Librandi Chrome Plating. He started the business in 1972 after working eighteen years at the Bethlehem Steel Co. where he received his training as a Machinist and Tool and Die Maker.   His son Todd Librandi is President of the Company and is a member of the Harrisburg Consistory. His wife is Judy Beer Librandi and is the environmental Manager at Librandi's Plating.
In 1965, He became a member of Prince Edwin Spring Creek Lodge No. 486 of Middletown, Pa. He served on the Temple Committee and was on the Planning Committee for a new Temple that was built in 1973. He is presently serving as a Trustee.
He became a member of the Harrisburg Consistory in 1965 and served as a Class Marshall for    eleven years. He also served on the fund-raising committee for Lower Dauphin County for the Scottish Rite Museum in Concord, Mass. He is also active in membership in the valley and has received several awards, along with being a supporter of The Twenty­ First Century Fund and the Learning Center Program.
In 1979, he became a member of Harrisburg Council No. 7, Perseverance Royal Arch Chapter 21 and Pilgrim Commandery No. 11. He is also a member of Red Cross of Constantine, York Chapter, Trinity Chapter Red Cross of Constantine, Harrisburg and an Honorary Member of Sojourners.
He has been an active part of the Zembo Shrine and served as it's Potentate in 1990. His theme for the year was "Hands that Care". He has served the Shrine in many different capacities including taking an active part in ceremonials. He is an active member of the Royal Order of Jesters.  The DeMolay bestowed upon him the Honorary Degree of the Legion of Honor in 1991.   He served as Dean for three years.
He went to Grand Lodge in 1989 to serve as Aide to the Right Worshipful Grand Master Arthur Kurtz.  He served as Aide to eight Grand Masters and also served as Grand Steward to two Grand Masters.
It was a great honor for him to design and produce a flag for the Grand Lodge of Pennsylvania. It has become the official Masonic flag for all Blue Lodges in the jurisdiction. It has been a rewarding experience for him to be able to put his talents as a Machinist and Tool and Die Maker to work for the various Masonic Bodies. He was a member of the Friend-to-Friend Executive Task force that erected the Friend-to-Friend Monument at the Gettysburg National Park. In 1993, he was bestowed the honor of becoming an Honorary Member of the Grand Lodge of Pennsylvania.
On August 30, 2011, He was created a Sovereign Grand Inspector General, 33 degree and Honorary Member of Supreme Council in Chicago, Illinois. The Grand Lodge of Pennsylvania bestowed upon him "The Franklin Medal" for his service to the fraternity.