Harrisburg Consistory Flagpole Fundraiser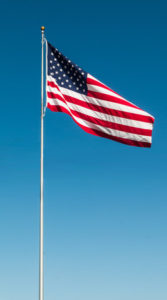 Thank you for all of the generous donations. Please come to the Reunion on May 22 for the Flagpole Dedication!
As I began my duties as the valley secretary, I spent some time getting to know the building and the grounds. As I walked around looking at this beautiful building, I realized that we do not have a flagpole to display our nations colors. I asked the staff and the Valley officers what happened to the flagpole and I was surprised to learn we never had one. In years past we would display the American flag around the circle in front of the building during reunions, but not on a daily basis. I would like to remedy this situation by asking for the members to consider making a modest donation for the purpose of erecting a 40-foot Flagpole with a commemorative plaque honoring those who have served our country in the Armed Forces and are members of the Valley of Harrisburg. It would have to be illuminated at night and I believe it would look wonderful with our beautiful Scottish Rite Cathedral in the background. The estimated cost would be $4,500 installed.
Please make a donation online here, or send your donation to the Valley secretary at:
Valley of Harrisburg, A.A.S.R.
PO Box 2423
Harrisburg, PA 17106-2423